Yesterday we were expecting a massive storm, I had to leave work early so I would make it on time to pick Cami up from the Day Care. I got home ready to eat my comfort food because lately I feel so cold that all I can think of is food. It seems that my New Year resolutions are on hold until the Spring, I don't know you, but I realized that I can't work out if I'm cold ( the perfect excuse).
I had been in contact with a former client about a cake he need it for tomorrow, we agreed on the design and other details and I was ready to start baking on Monday, but since I never got what you are supposed to get when a client placed an order and you required a deposit or full payment, I thought he had changed his mind and didn't want the cake and some how he couldn't let me know. The point is that I didn't bake on Monday.
Yesterday around 7:30 pm I got a text message from Mr. Client asking me how was the cake coming along, what? the cake is not coming along at all I text him back. The thought of baking, making frosting and decorating a cake at 8:30 pm was not a happy thought. I went back and for with my client and I end up making the cake for him last night. Yes, all the process in one night, you might be asking yourself how many hours took me to make the cake and why I didn't say no, after all it wasn't my fault.
Very easy, I don't know how to say no, and I really have to learn because I can't do this to myself, and then my client was so sweet and excited about his girlfriend's birthday. How can you say no to that?
I copied the Juicy Couture logo from the Internet and my husband took it to my local supermarket bakery and asked if they could print the logo on a frosting sheet.
The frosting sheet was very easy to work with, I just marked the heart shape with a big heart shape cookie cutter and then cut it. I made the rope around the cake and the logo with black fondant using my clay gun.The piping details on top of the cake are made with black royal icing.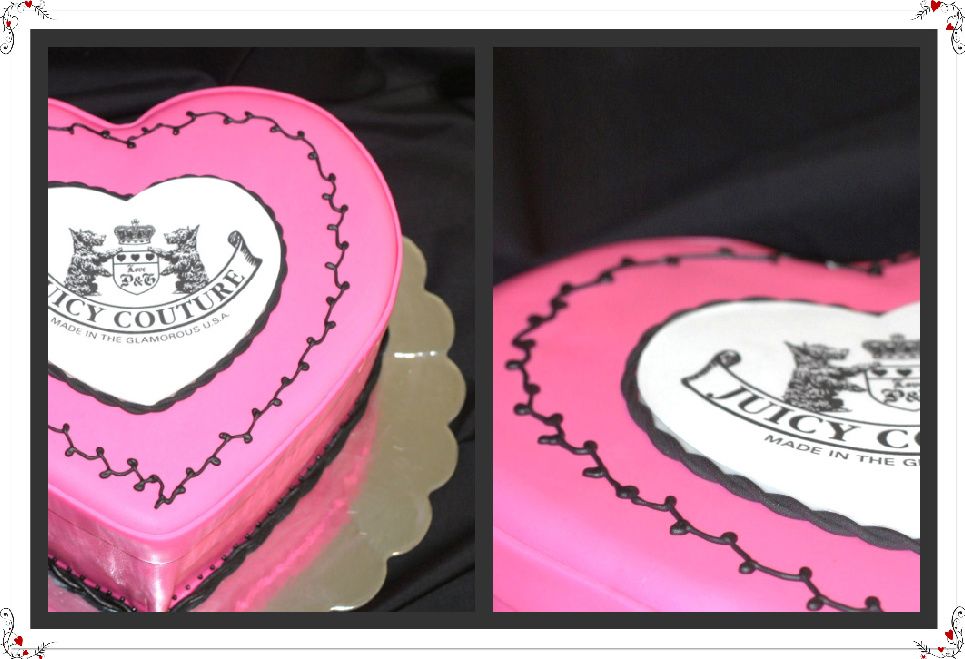 Well, I hope you like it. Just wondering... Have you ever had a situation like mine?