While all of you are making the most beautiful Christmas cookies and yummy treats I am still stuck in the last cake orders of the year, this weekend I will finish the last orders and then I am off for a long break.
Last weekend I made a Baby Shower cake with a ladybug and dragonfly theme, and I thought the dragonflies would look really nice "flying" on top of the cake. And when I say flying... please don't think some how I put a motor under the cake the would spin around the dragonflies, my cake skills are not there yet. But I did use some wire, which I have seeing in other cake designs requiring some type of "flying" look.
For the dragonflies I used a mix of fondant and gumpaste 50%-50%
I rolled the fondant thin and using a dragonfly cookie cutter I cut the shape of the dragonfly.
Using an exacto knife I removed the body and the head because I wanted to do a more 3 D shape with the body.
To bring some texture to the wings I rolled a piece of white fondant and using a knife I cut a tear drop shape, if you have a tear drop cutter feel free to use it, I just don't have it.
I cut a square piece of cardboard and parchment paper to lay the dragonfly on it and give the wings some movement.
Using a paintbrush with a dab of water I attached the white mini wing details on top of the pink wings.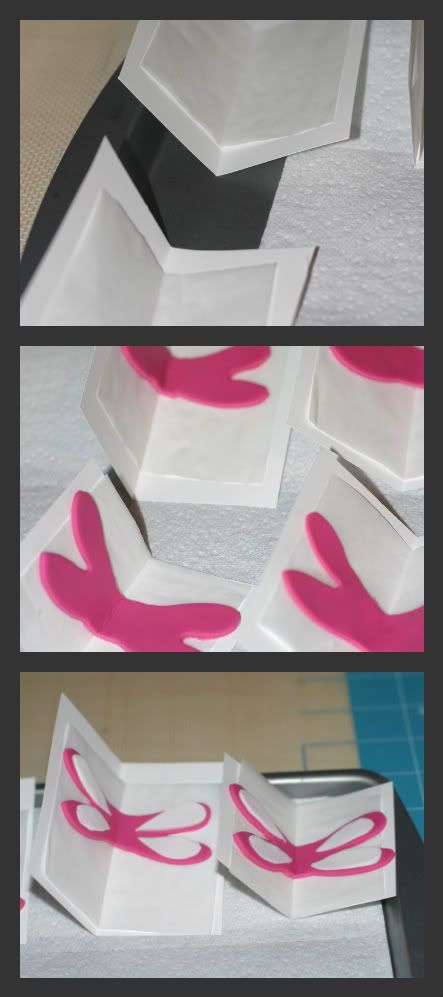 For the dragonfly body, I just rolled a piece of fondant in a long sausage shape making sure I was forming a head and a little round belly (yes, dragonflies also have love handles)
I used a toothpick to make indentations in the top of the body
I attached the body to the wings with a dab of water and then I inserted an 18 gauge wire under the dragonfly body (ouch!)
At this point the dragonfly figure was very soft, so I set it aside to dry for one day on top of my kitchen cart
I always like to dust my sugar figures with pear dust, for this one I used a shimmering pink. Well I hope you find this tutorial useful to use in one of your future cakes.
Thank you for stopping by and have a great weekend.