It seems that I will be joining the watermarking world, is that actually a proper grammar sentence?
This might be a boring extremely long post, but if you have a minute or 5, please read it.
I won't go around the bushes here, I know I am not good taking pictures, I do not have the best camera in the world and my pictures most of the time are full of shadows.
No, I do not have a light box, although it is on my Amazon wish list. I take most of my pictures at night, since is the only time I can do it.
Either way, bad or good pictures I do not want anyone taking them, using them on Etsy or other websites without my permission.
I just don't get it!
Picture theft:oh, sorry I took your picture, I just wanted to show my clients what I can do.
Me: Really? why don't you make your own cake and then take the picture yourself, of your own work.made by you. and hopefully, not coping my own design. (Update: Feel free to copy my design, just give me a little credit)
Picture thief: ohhhh....I just don't have the time
Me: really? and I do?
I am not polite when it comes to someone taking my picture and posting it on their site.
I don't know about you, but I have a full time job, 2 little girls and one of them is 4 months, I run my own part time cake/cookie business and I am still a friend and wife.I run this little blog with whatever time I have left because I want to share with others what I do, and maybe help someone to learn something new along the way. And yes, I won't lie, this blog pays for a lot of diapers, wipes and trips to the indoor playground.
Bottom line is that watermarking protects your picture, your idea in a photo, your work. In the other hand some people believe that watermarking your picture ruins the idea/photo's quality.
This topic shouldn't be ignored and if you have a little time I would love for you to share your opinions with me. Is the watermarking better in the corner of the photo or in the middle? big letters? little letters? do you watermark your pictures?
I may not have thousands of followers, cool videos and funny stories here. But I want to make sure that if you are here you like what you see.
ok. amen.
on to the cookies...

I made these cookies for a wonderful bloggy friend of mine. Her little girl is turning 7 and she is having a Barbie party. I use the party invitation as inspiration for the cookies.

To make these cookies you will need:



.Square cookie cutter
.Pink royal icing ( stiff for outlining and thin for flooding )
.Kelly green and cornflower blue flood icing (Wilton brand colors)
.Tip #2
.Tip # 103
.Sanding sugar
.A mix of meringue powder and water
.Piping bag and coupler
.Squeeze bottles ( for flooding icing)



-Outline and flood the cookie.
-Working a few cookies at the time,use a squeeze bottle to pipe dots of green and blue icing.
-Let the cookies dry for a few hours, outline the cookie again with tip #2 and pink icing and draw the #7
-Let cookie dry another couple of hours.
-Using a small brush, brush the #7 with the meringue powder mix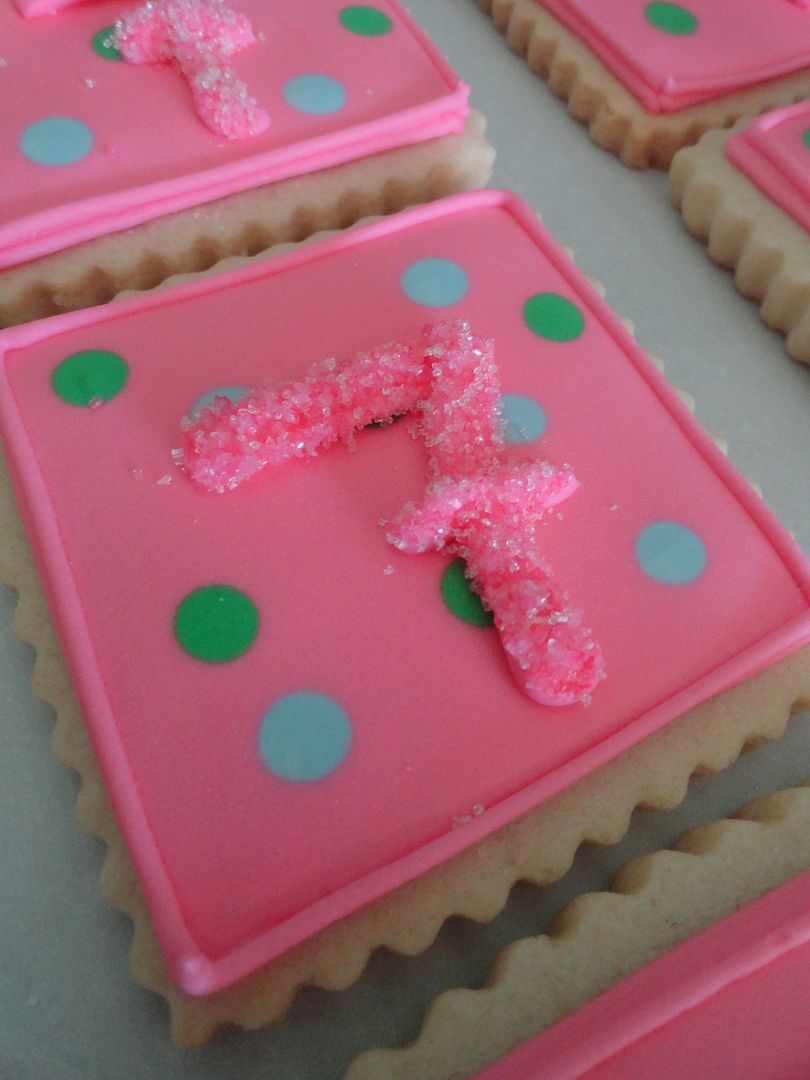 Wrap the cookies in a cello bag, tie them with a pretty ribbon and you will have a happy little girl.
I couldn't help myself and share with you a picture of my little cookie decorator in training.
Have a great weekend.